Posted on 9th October 2021
Autumn 2021
Dear All,
As I write the beautiful autumn sunshine is streaming through the window, the crab-apples have all fallen and conker season is upon us. I've yet to light the wood-burner which shows how mild it has been (I'm not know for my hardiness!) and Damson (my Border Terrier) and I are enjoying the afternoon sun in my workshop. Raking light is brilliant for carvings as well, which is a bonus at this time of year!
Studio work has been dominated this past few months by working on the Southwell Minster pathway project – a dozen large Yorkstone slabs lifted from the outside the minster and transported to my workshop where they were hand carved to designs by graphic designer Helen Eger (www.studioeger).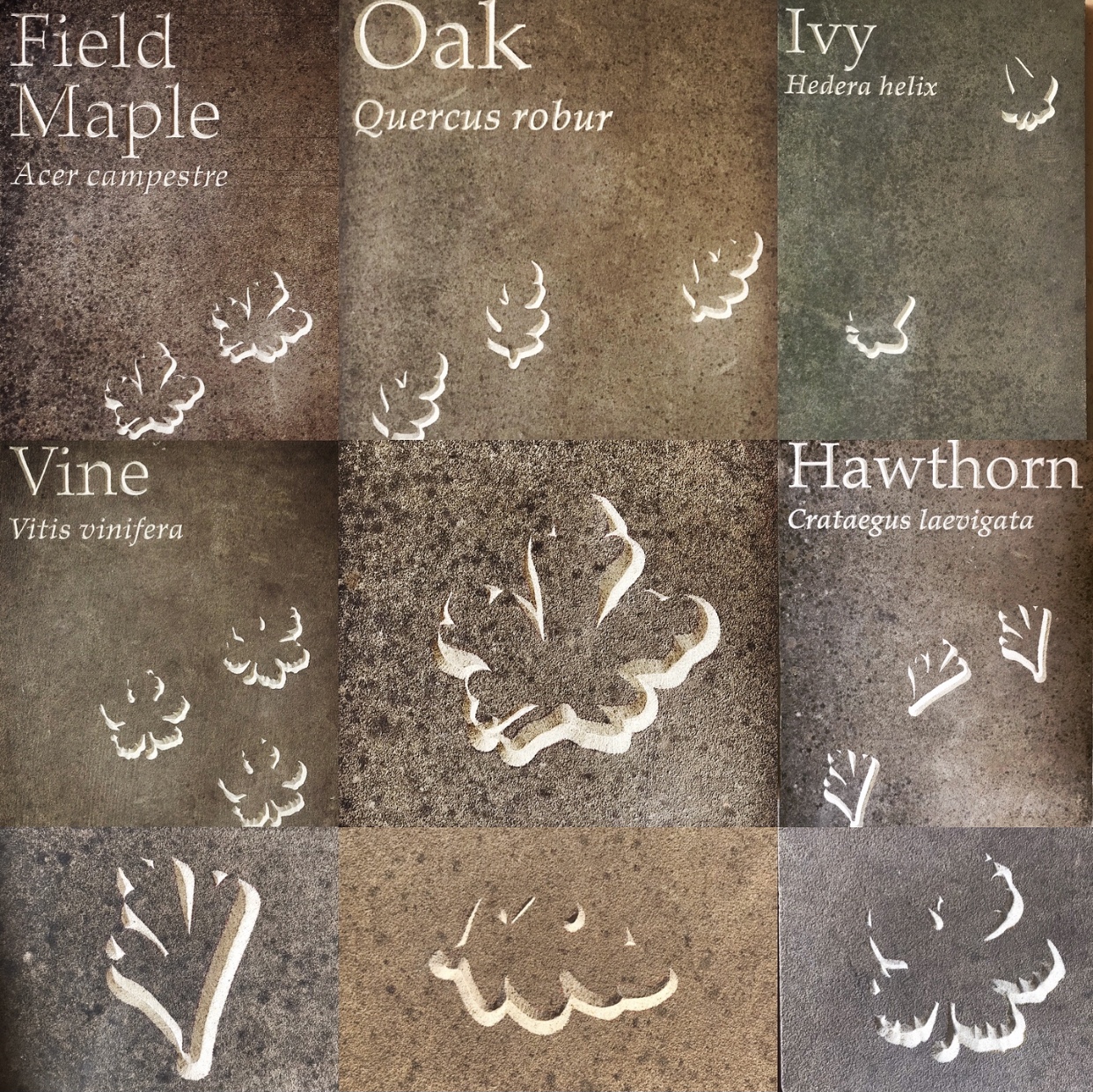 The designs represented the five of the beautiful leaves carved in the famous chapter house carvings, with lettering and leaf designs. These left the workshop last week and are heading back to their old home, the footpath which runs from the south east corner of the minster in the churchyard towards what is now called the Education Garden, in the grounds of the Archbishop's Palace.
This will be used for school groups, social events etc. and I'm told that the pathway has heavy foot-traffic, so the work should be highly visible which is great news.
I'm now on catch-up with a whole raft of small jobs, commissions for presents, house names, candle pieces etc.
I've no more exhibitions this year but will be aiming to take part in several next year with Lincolnshire
group Art on the Map – more news on those in the new year. Meanwhile, I'm thrilled that the Lincolnshire Wildlife Trust's ~LoveLincsPlants exhibition is continuing its tour around the county, and all thirty selected pictures (including my winning cowslip woodcut) will be on exhibition in the Jospeh Banks Centre in Horncastle until the end of the month (October).
An auction of all pictures is now live on-line to be able to bid for the art-works and raise money for the Lincolnshire Wildlife Trust – see https://www.jumblebee.co.uk/lincspirationalplantsauction.
Its open until 31st October 2021 – all in a good cause!
View all news